1 year Limited Warranty

14 days right of return

Meer dan 3500 producten

Pay as you like

4 - 8 working days + Shipping time TNT
Information
Made from the lightest, strongest leather available – kangaroo hide – the Tour Ultra series is the pinnacle of performance, versatility, and durability. These tough, comfortable shoes come with an assortment of interchangeable soles, heels, and cleats to match the conditions of any approach. Plus, their precisely engineered frames keep the soles perfectly in place. Play your game, your way.
Durable Kangaroo leather
Interchangeable sole and heel
Kevlar rubber traction sole
Replaceable DuPont Kevlar toe cap
Vented inner soles
Includes 4 soles (deer skin, back skin and chrome leather and cleated)
Includes 3 heels (flat normal, rippled, and back skin)
Includes shoe trees, slide sole cover, and carry-all bag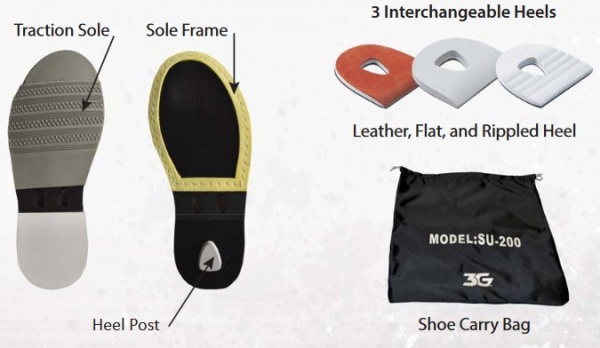 Organized from the most amount of slide to the least, the Sport Ultra series' interchangeable heels and soles give you the ultimate in versatility and performance, letting you adjust your shoes rather than your game. The Sport Ultra series comes with four different sole materials, three cleat sets, three heels and a replaceable Kevlar toe cap. Additional soles and heels are available to customize your slide even further.
Super Schuhe, sehr bequem und mit den Sohlen für den Gleitschuh gut den Bahnbedingungen anzupassen
Sehr bequeme und leichte Schuhe. Gute Verarbeitung. Hält was er verspricht.
Koper heeft geen omschrijving achtergelaten.
Marcus L.
30 January 2020
Super Verarbeitung und Tragegefühl. Viele verschiedene Möglichkeiten der Anläufe. Unkomplizierte Bestellung und schnelle Lieferung.