Flock Foil Logo on the Belly
1 year Limited Warranty

14 days right of return

Meer dan 3500 producten

Pay as you like

1 - 2 Weeks + Shipping time TNT
Information
Flock Foil Colors:

| | | | | | | | |
| --- | --- | --- | --- | --- | --- | --- | --- |
| | | | | | | | |
| Pink | Royal Blue | Purple | Orange | Navy | Mint green | Apple green | Light gray |
| | | | | | | | |
| Yellow | Green | Dark gray | Red | Azure blue | Dark pink | Burgundy | Black |
| | | | | | | | |
| White | Turquoise | Sky blue | Fluor Orange | Fluor Pink | Fluor Blue | Fluor Yellow | Fluor green |
Flock Foil Transfer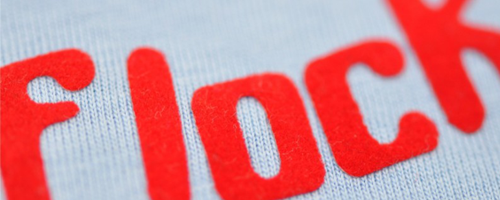 Just like flex foil, you use flock foil to print on textiles. The biggest difference between the two films is in the finish. Flex foil is known as a thin and smooth foil. Flock is the opposite. Due to a suede finish, the foil feels a lot thicker. In addition, the finish is not smooth; the top layer of the foil consists of small soft hairs. Have you not seen or felt the foil before? Felt or suede material feels almost the same.
Suitable for materials
100% cotton
100% polyester
A combination of cotton / polyester
Leather
Sublimated polyester
Washing instructions
Washable up to 60 ° C
Do not tumble dry
Not ironable
Required file
Line and color separated file (ai, eps, cdr, pdf)
Exact size
Material to be printed
Material color to be printed
What file format do you need for printing a t-shirt?
If you want to print your logo, image or text on shirts, it is important that they are delivered in the correct file format. By receiving the correct file format, we can ensure that the file to be printed is printed on the T-shirt with high quality.
File format logo
We prefer to receive a logo in EPS, AI, or PDF format. These are graphic files and are made up of vector lines, these lines can easily be enlarged and reduced without loss of quality. This is one of the main reasons why we prefer not to receive a JPG or PNG file. If you only have a JPG, Gif or PNG file, this is also no problem, the professionals of BowlingShopEurope know everything about converting JPG to eps file and we can ensure that your logo, image or text is always printed properly on the textile, drawing costs can be charged for this. You will be informed of this before printing. Always make sure you upload as large a file as possible.
Reviews
No reviews found
Read or write a review