FAQ-Shipping and Delivery
Shipping costs and
Delivery times
Delivery
BowlingShopEurope supplies in Europe for the lowest possible rate, which is part of our service, and we do it because we like it that you have chosen us. We use PostNL as our main carrier. Whatever you order, we do our best to get the item ASAP comes with you to get.

Carriers
We use PostNL, DHL and DPD when it comes to smaller items, such as accessories, balls and bags, etc. These can be shipped with the regular parcel service, which is by far the most efficient and customer-friendly way of shipping. As soon as we have posted your order, you will receive a track and trace code.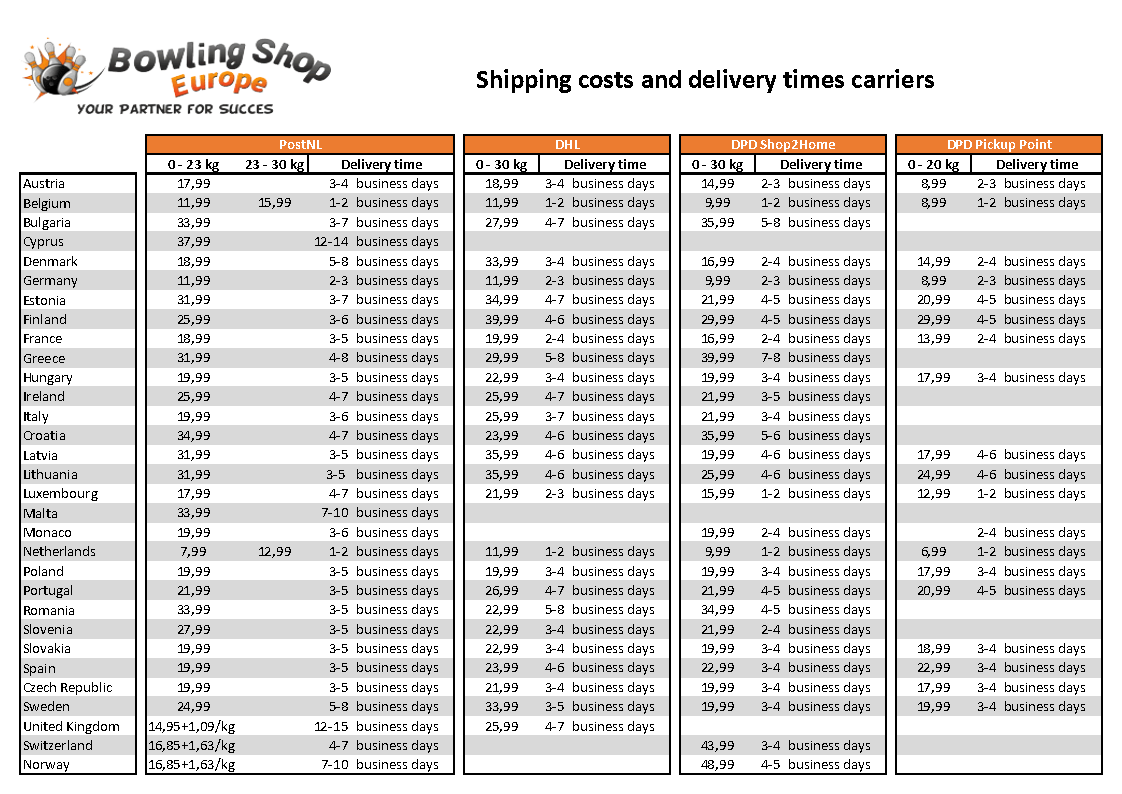 Download pdf shipping cost here
* These transit times are an estimation in working days, starting after the parcels leave the international sorting centre in The Netherlands.
When your order has to be sent to one of these countries (or other countries that are not in the list), it is best to create an account, place the products to be ordered in your shopping basket and send an email to: [email protected] so that we can supplement your order with shipping costs and complete it. You will then receive an email with the invoice and you can pay it the way you want.
---
Delivery time?
A delivery time is stated for each product. Every order will be shipped at once if all ordered products are in stock, so this means that an order will only be shipped as soon as the product with the longest delivery time has been in stock. However, the ordered products that are in stock will remain reserved for you. 
---
Missed delivery person?

If your order is offered when you are not at home at that time, the package will be offered again the next working day or Saturday. If no one is present at the 2nd delivery attempt, the package will be delivered to a post office in your area. In that case, the delivery person will leave a message so that you know where to pick up the package. Your order will remain at the post office for 1 week.
In some cases, the package can not be delivered to the neighbors at home. In that case, the delivery person also leaves a message so that you know where you can pick up the package.
---
Track & Trace
You can track your package very easily by checking the order status. If your order has shipped, the tracking information will be located at the bottom of the detail screen. There will be a link for you to click on to track the package. After shipping you should also get a mail with the tracking link.
---
International shipping

For International Customers we accept many forms of Payment. PayPal is the preferred method for payment (You must be verified and have a confirmed address with Paypal in order for us to receive a payment). We do accept others (with exceptions) such as Wire Transfer, Credit Card and Paypal (In EU Euros).
Orders will not be subject to broker fees, but may be subject to duties and taxes levied by the home country. (As a business located in the Netherlands, we are not willing to put our business in jeopardy by stating that this package is a gift to get around duties and taxes. Please do not ask.)
Orders returned to us have two options. 1) You pay the shipping charges again and we will reship the product to you. 2) We will refund your money paid minus the shipping charges paid. If you return a product that is NOT defective and will NOT be purchasing another product there is a 15% restocking fee.
We will only ship via DHL, FedEx or UPS Worldwide Expedited (NO EXCEPTIONS CAN BE MADE).
How to calculate your shipping charges.
It is easy to figure out the shipping costs at Bowlingshop Europe.
1. Shipping depends on weight and size of the box, so you need to add the item(s) that you want to your shopping cart.
2. Register for an account and send a mail to [email protected] When you have all the items in your cart.
3. After receiving your mail, we will calculate the shipping manualy and we will contact you about the costs. if you agree with this, we can make the order final by adding the shipping cost to it and you can make your payment. You will find your order in your account on our website.

---
Change adress

When you log in to the website you can go to my account at the top right and then choose dashboard. Then you will see a new menu on the left where you can choose billing address and delivery address, here you can change the address details.
---
Pick-up order

Yes it can, give this to do with your order. You can pick up the package at our address Cingelwal 7, 7031 CA Wehl the Netherlands Caution! Wait before you come first until you have received notice of us and we have made an appointment, otherwise the ride may soon been for nothing.
---
Is your country of destination not listed?
Ask about the possibilities and request the shipping costs and delivery time by e-mail [email protected]

Still have questions? Please feel free to contact us at [email protected]