1 year Limited Warranty

14 days right of return

Meer dan 3500 producten

Pay as you like
Information
Forever change your game with 900 Global Eternity.

The newest line in 2023 from 900 Global is here- Meet Eternity! Eternity features the Epoch asymmetric core; a new design that was inspired by the Break core from earlier in the 900 Global days. This shape allows for an earlier roll and aggressive backend motion than the Reality line.
Wrapped in the S84 Response pearl reactive, and polished with Reacta Gloss, many bowlers will love Eternity for it's versatility on different oil conditions.
Here's what 900 Global has to say about Eternity:
As with all of our high performance pearl covers, bowlers will find the Eternity to be easily tunable and able to cover a broad spectrum of oil conditions. Bowlers should notice this core to be a bit earlier and more aggressive than the Disturbance Core used on the Realities. It will expand upon the high performance shapes that the Reality and Zen have given us.
Strengths
The Eternity provides a nice balance of midlane read and back end motion. On medium oil, it doesn't go through the breakpoint, and it always creates plenty of back end motion.
Weaknesses
The polished pearl cover won't be quite enough for most bowlers on fresh heavier oil conditions. The ball responds well to surface changes for those situations, or it can be a very good option once the lanes have started breaking down. Also, as an asymmetrical polished pearl, it is simply too strong for shorter and drier oil patterns.
Overall Summary
The Eternity fills an important need for bowlers in providing a strong asymmetrical pearl option in the 900 Global lineup. It outperformed its comparable predecessor, the Altered Reality, in several situations. It offers a stronger motion than the Zen, with more back end than the Wolverine Dark Moss and the Zen Master.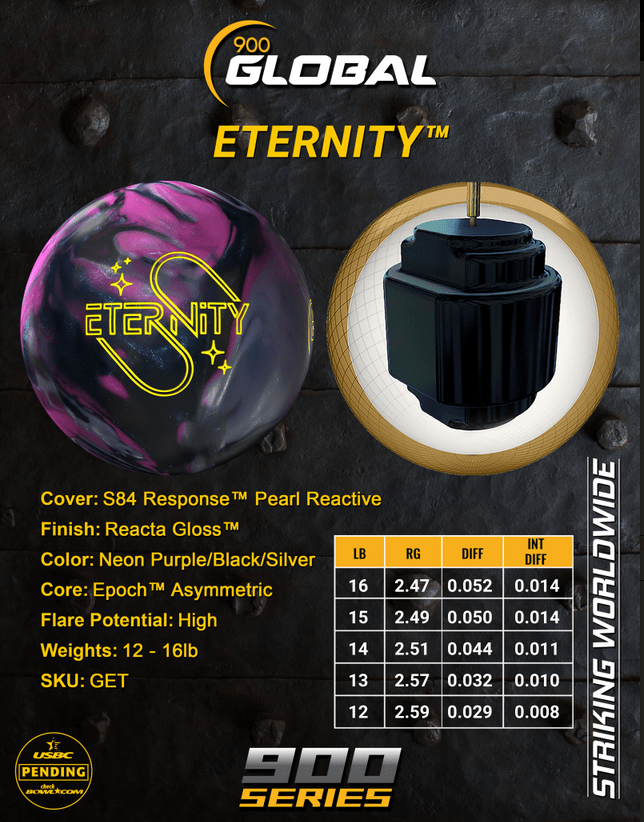 Do you want us to drill the ball, then choose the desired drilling service, fill in the details and add it to your shopping cart.
Specifications
| | |
| --- | --- |
| Power Scale: | 235.5 |
| Factory Finish: | Reacta Gloss |
| Finish: | Polished |
| Coverstock: | Pearl Reactive |
| Coverstock Name: | S84 Response Pearl |
| Differential (15lbs): | 0.050 |
| Flare Potential: | High |
| Core Type: | Asymmetric |
| Core Name: | Epoch Asymmetric |
| RG (15lbs): | 2.49 |
| Lane Condition: | Medium-Heavy |
| Mass Bias Diff (15lbs): | 0.014 |
| Breakpoint Shape: | Earlier Roll w/Aggressive Backend |
| Performance: | Pro Performance[10] |
| Release Date: | 17/2/2023 |
| Ball Warranty: | 1 Year |
| Torque (1-10): | 8.7 |
| Length (1-25): | 15.2 |
| Backend (1-20): | 18.8 |
| Total Hook (1-100): | 57.9 |
Pedro Don Porto Carero
12 February 2023