1 year Limited Warranty

14 days right of return

Meer dan 3500 producten

Pay as you like
Information
Long live the Melee line from Brunswick! Meet Melee Jab Carbon...

The Melee line by Brunswick Bowling is back with this new release: Melee Jab Carbon. Inside, the iconic Melee symmetric core provides that clean, consistent reaction that you know is reliable and consistent.
Wrapped in a newly formulated coverstock, A.X.H. Pearl, (Activator Xtreme Hook) and finished at 500/1000/1500 Siaair with Crown Factory Compound, you can anticipate length with a snappy backend finish.
Here's what Brunswick has to say about Melee Jab Carbon:
Brunswick knows and understands tradition better than any brand in bowling, and it's become a tradition over the last few bowling seasons to release a new Melee Jab. The Melee Jab line has traditionally been a go-to for bowlers wanting a clean and responsive Brunswick ball, and this season we are excited to introduce the Melee Jab Carbon. The Melee Jab Carbon uses a cover new to the line, Activator Xtreme Hook Pearl, most recently found on the Zenith line of balls, to update the line and stay on the cutting edge of shiny ball performance. Brunswick fans turn to this line of balls for performance on medium conditions when a strong but predictable shiny ball is needed, and the Melee Jab Carbon will soon be a favorite for those players.
Strengths
The Melee Jab Carbon provides a lot of value in its versatility, being very useful at its box finish and responding nicely to surface changes when needed for the best matchup with an individual bowler's style. It bridges the gap between stronger and weaker offerings, making it a solid option in the middle of a bowler's bag.
Weaknesses
The Melee Jab Carbon does a lot of things well, without necessarily being totally dominant on any particular type of condition. This is not really a negative, though, as the ball sits in a perfect spot in the current Brunswick lineup.
Overall Summary
The Melee Jab Carbon is the newest incarnation of the Melee Jab, with enough versatility that almost any bowler would find a use for it on a variety of conditions. It is a great option that would fit in the middle of any bowler's bag.
Do you want us to drill the ball, then choose the desired drilling service, fill in the details and add it to your shopping cart.
Specifications
| | |
| --- | --- |
| Power Scale: | 220.1 |
| Factory Finish: | 500/1000/1500 Siaair/Crown Factory Compound |
| Finish: | Polished |
| Coverstock: | Pearl Reactive |
| Coverstock Name: | A.X.H. Pearl |
| Differential (15lbs): | 0.050 |
| Flare Potential: | |
| Core Type: | Symmetric |
| Core Name: | Melee |
| RG (15lbs): | 2.487 |
| Lane Condition: | Medium-Heavy |
| Mass Bias Diff (15lbs): | |
| Breakpoint Shape: | Length w/Strong Backend |
| Performance: | High Performance |
| Release Date: | 08/19/2022 |
| Ball Warranty: | 2 Year |
| Torque (1-10): | 7.7 |
| Length (1-25): | 15.3 |
| Backend (1-20): | 17.7 |
| Total Hook (1-100): | 57.5 |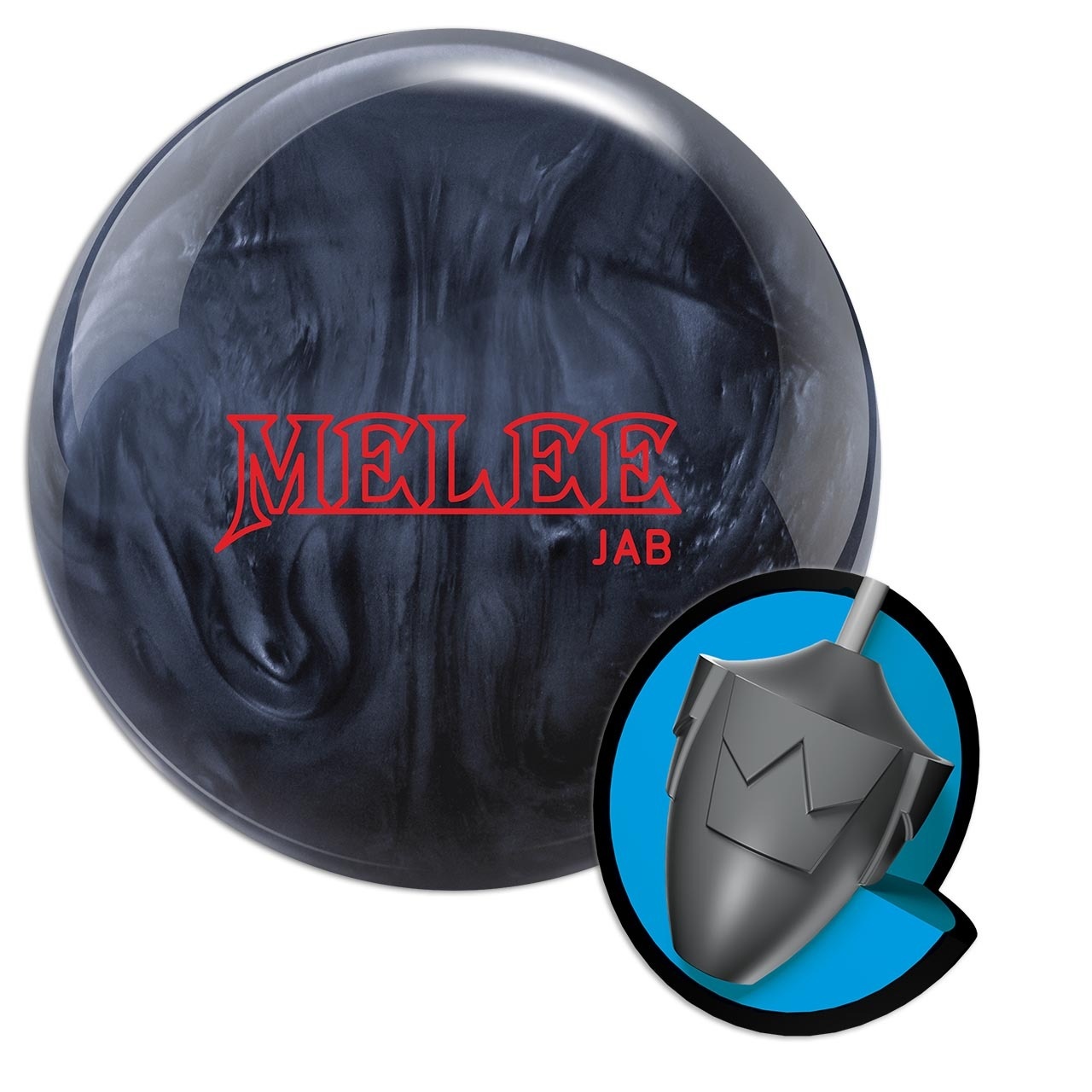 Reviews
No reviews found
Read or write a review