oil removal, sanding and optionally polishing of a bowling ball
1 year Limited Warranty

14 days right of return

Meer dan 3500 producten

Pay as you like
Information
With this service, you will send the ball to BowlingShopEurope. We will run your bowling ball through the Revivor, thoroughly clean the bowling ball, take the surface back to factory, change the grips, and ship the ball back to you.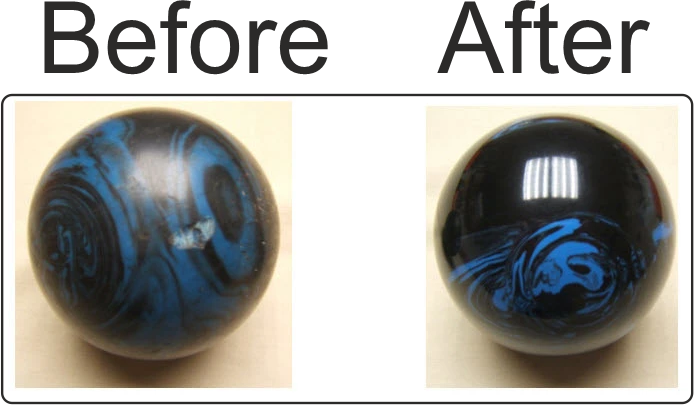 Der Schaden an diesem Ball wurde ebenfalls repariert
Remove oil from coarse to fine sanding and polishing and possibly the Bowling Ball comes back to life. This brings the ball again as good as new to see from (minor scratches disappear), and the reaction is back!

The Revivor is an easy-to-use, self-contained unit that safely removes oil from reactive and proative coverstocks. Best of all, it's from Innovative and that means advanced technology at work for you! Processes 2 balls at a time. Restores ball performance. Heat draws the oil from the bowling balls. Forced air circulates the heat evenly. Electronic controller assures constant temperature. Balls continually rotate during the process. Sorbent pads collect the oil as the balls turn. 6 years of field testing has never harmed a ball. 2 hour timer allows you to walk away. Innovative has designed this unit for the sole purpose of extracting oil from reactive and proactive bowling ball cover stocks. Drawing out the oil by the use of thermal reaction is a proven method of bringing back the original characteristics of the ball. The Revivor removes the oil with an even, digitally controlled heat pattern so as not to damage the bowling ball. Balls should have the oil extracted approximately every 40 to 50 games, depending on the lane conditions and the level of performance each bowler wishes to maintain.
Reviews
No reviews found
Read or write a review